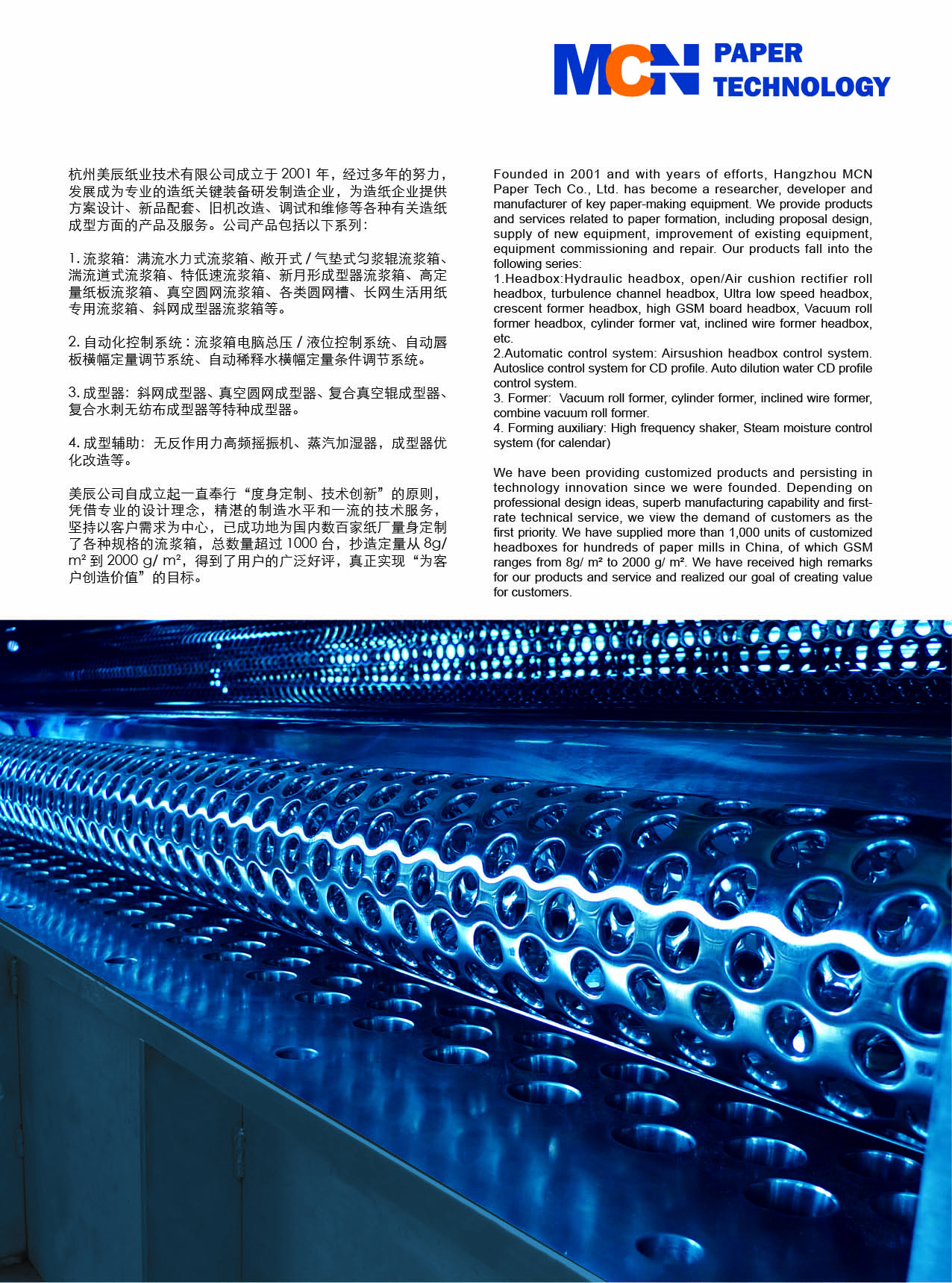 Brief for MCN Paper Tech. Co.,LTD
Founded in 2001 and with years of efforts, Hangzhou MCN Paper Tech Co., Ltd. has become a researcher, developer and manufacturer of key paper-making equipment. We provide products and services related to paper formation, including proposal design, supply of new equipment, improvement of existing equipment, equipment commissioning and repair. Our products fall into the following series:
1.Headbox:Hydraulic headbox, open/Air cushion rectifier roll headbox, turbulence channel headbox, Ultra low speed headbox, crescent former headbox, high GSM board headbox, Vacuum roll former headbox, cylinder former vat, inclined wire former headbox, etc.
2.Automatic control system: Airsushion headbox control system. Autoslice control system for CD profile. Auto dilution water CD profile control system.
3. Former: Vacuum roll former, cylinder former, inclined wire former, combine vacuum roll former.
4. Forming auxiliary: High frequency shaker, Steam moisture control system (for calendar)
We have been providing customized products and persisting in technology innovation since we were founded. Depending on professional design ideas, superb manufacturing capability and first-rate technical service, we view the demand of customers as the first priority. We have supplied more than 1,000 units of customized headboxes for hundreds of paper mills in China, of which GSM ranges from 8g/ m² to 2000 g/ m². We have received high remarks for our products and service and realized our goal of creating value for customers.